Coca Cola Can Motorcycle Maintenance can be a very Zen experience and just like the book, make us inquire and rethink the value of things. In this particular case the value of trash! Trash as a new economy is my mantra, and the platform I use to inspire people to pull themselves out of poverty.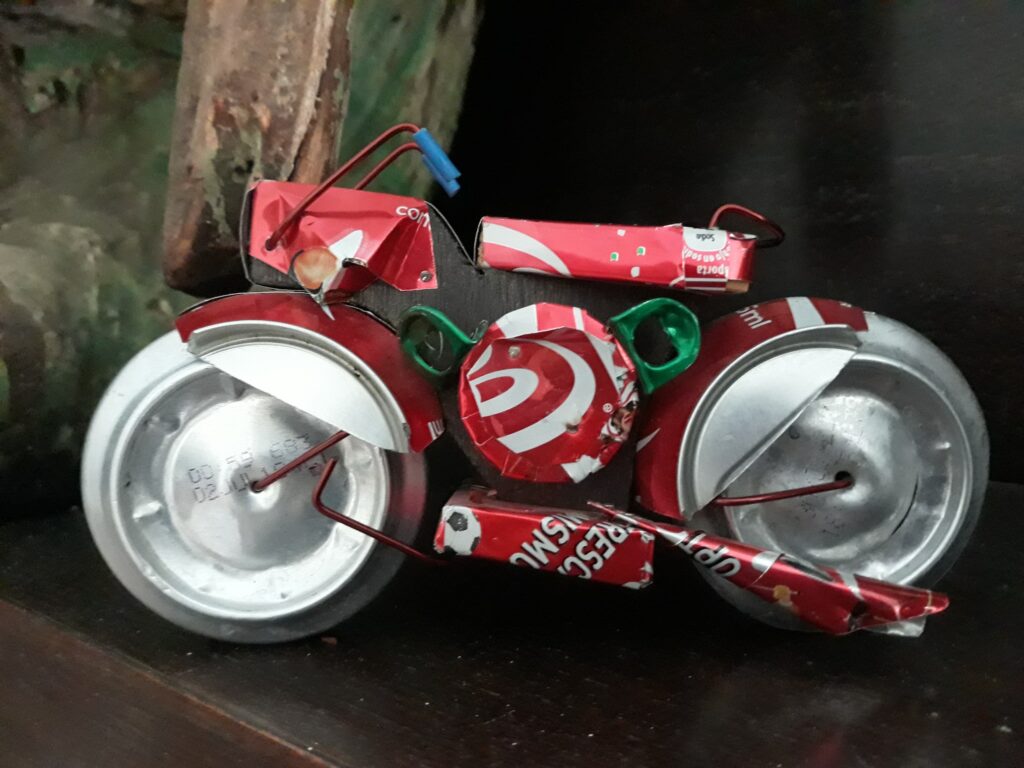 Indeed, we live in a defining moment in history – a moment where we all must come together so we can resolve some of the today's most daunting challenges.
Make no doubt that the rapid onset of Climate Change and COVID-19 are urgent indicators that now is the time to implement and escalate our efforts. All of us must walk the walk and practice what we have preached – changing our production and consumption patterns in order to create a more sustainable and circular based spending cycles rather than depletive ones.
All sectors of the economy must respond accordingly and quickly. Trash (which we have plenty of) as a new economy has tangible and substantial benefits. It is therefore very encouraging to see recycled art being supported by a diverse group of consumers, collectors and art fairs from across the globe. We all must strive for more innovative solutions that are grounded in sustainable revenue generation and out of the box systems' thinking.
A game-changing mindset followed up with exacting support will be required so we can achieve the future we want and one that is anchored in living more sustainably.
I welcome artists to think bolder ideas, and more ambitious objectives. I Invite museum curators, art teachers, and collectors to show environmental artists more support. Please join me in celebrating and honoring todays environmental artists, awareness artists and reclaimed crafters, and our very first Climate Change Museum. Last but not least let us not forget hard working eco trail blazers like:
Boyan Slat's https://theoceancleanup.com/
They are working hard to make a point, to stop polluting, to RECYCLE more, and are all making an important contribution to transforming this important concept, Trash as a New Economy.
Zen and the Art of Recycling!
Click To Tweet